ECN E-BULLETIN No. 10_2023

Soil Monitoring and Resilience Directive

The ECN publishes its feedback on the newly proposed Soil Law

ECN supports the general objectives of The Commission's new proposal for a soil monitoring law, but pushes for more ambitious measures on sustainable soil management and a better assessment of soil descriptors and criteria.
ECN Policy officer Riccardo Gambini was invited to a stakeholders' meeting with MEP Martin Hojsik - appointed by the European Parliament as rapporteur on the file – and had the chance to present the ECN's position and requests with regard to the Soil Monitoring Law.
You can find ECN stance on the proposed Soil Law here.
Waste Framework Directive
The ECN asks for bio-waste recycling targets in proposed recast of the EU waste law
The European Compost Network ECN welcomes the opportunity to provide feedback on the Commission's public consultation concerning the new proposal for a revised waste framework directive (WFD), focusing on food and textiles aspect.
Food waste is an important fraction of bio-waste and its generation its mismanagement must be addressed properly. In fact, according to the last revision of the WFD in 2018, EU countries shall set up no later than 31 December 2023 a separate collection system for municipal bio-waste – which includes food residues from households and commercial activities as well – to curb the amount of bio-waste currently sent to incineration and/or landfills. Yet, as the Early Warning Report (EWR) published by the EC in July suggests, separate collection and recycling of bio-waste is still underperformed in many Member States, resulting in the impossibility to reach the targets for recycling set in art. 11 of the WFD. As the EWR indicates, action must also include a focus on the treatment of bio-waste, as this separately collected waste stream represents more than one third of total municipal solid waste. Due to its high share in the total amount of municipal waste generated, a proper management system for bio-waste is a pre-condition if recycling targets are to be achieved.
Against this background, and while supporting the inclusion of food waste reduction targets in the various steps of the supply chain from processing/manufacturing to consumption, the ECN would like to highlight two other important targets that are missing in the new Commission's proposal:
Recycling target for non-municipal bio-waste (food waste from industries)

Reduction target of food waste (bio-waste) in residual municipal waste
You can read the full position paper on the proposal here.
EU Commission | Microplastics
Legislative proposal addressing microplastic pollution published
The EU Executive adopts a restriction on intentionally added microplastics within the REACH legislation as well as proposing a new regulation on microplastics derived from the unintentional release of plastic pellets.
Within the
Regulation amending REACH
(which regulates the registration, evaluation, authorisation and restriction of chemicals), the definition of microplastics covers all synthetic polymer particles below five millimetres that are organic, insoluble and resist degradation, and the restriction will apply to a vast array of products such as artificial sport surfaces, cosmetics, detergents, fertilisers, medicines and toys, each subject to different times of implementation. Products where the microplastics have not been added on purpose but are potentially present unintentionally – e.g. sludge and compost – are not in the scope of the restriction.
Furthermore, the Commission has published a
proposal for a Regulation
bringing forward first-ever measures to
prevent unintentional loss of plastic pellets, in a bid to achieve its 30% microplastics pollution reduction target by 2030.
European Parliament & EU Council │ Renewable Energy Directive
EU Parliament and Council adopt measures to boost in the deployment of renewable energy
According to the final decision, energy consumption in the EU will have to be composed of at least 42.5% from renewables by 2030, with the aim of reaching 45%.
A final vote on the update of the Renewable Energy Directive took place during the
European Parliament
plenary on September 12. The text, which was already agreed upon between MEPs and Council during inter-institutional negotiations, had to be officially approved one last time by the plenary. The
EU Council
followed one month later and on 9 October formally endorsed the adopted text. The changes made with the new directive will become legally binding 18 months after its entry into force.
European Parliament & EU Council│ Urban Waste Water Treatment Directive
MEPs adopt new rules to improve waste water rules, Council reaches common position
On 5 October, the European Parliament adopted its negotiating position on the recast of the 30 years old Directive governing the collection and treatment of waste waters, followed by the Council who agreed on a unified approach to this key deliverable for the Zero Pollution Action Plan.
The report of the ENVI Committee was backed by a large majority of the EP plenary, approving new rules for the collection, treatment and discharge of urban waste water to better protect the environment and health. New provisions include the increase in reuse of treated urban waste water to prevent water scarcity, better monitoring and stricter requirements for chemical pollutants including PFAS and microplastics.
The adopted text
introduces a regime for polluter accountability, establishing an extended producer responsibility (EPR) for different sectors, while partially allocating the increased costs of the EPR scheme to national financing. The EP position maintains the energy neutrality target to be progressively reached by 2040 which was also present in the initial proposal by the EU Commission.
EU environment ministers reached a
"general approach"
on the file on October 16th, that will serve as the negotiating mandate to start interinstitutional negotiations with the EP.
European Parliament│ Packaging and Packaging Waste Regulation
Packaging law survives ENVI Committee vote, EP plenary awaits
After almost one year, and big pressure from lobbying industries, the ENVI Committee of the European Parliament has adopted its amendments to the Commission's proposal, which will be submitted to plenary vote in November.
The compromise amendments adopted include reuse and prevention targets, together with a ban on all single-use packaging in restaurants and mandatory recyclability for all packaging materials. Compromise amendment 9 focusing on compostable packaging mandates mandatory home or industrial compostability of fruit and vegetable sticky labels, permeable tea and coffee bags, as well as industrial compostability of very lightweight plastic carrier bags required for loose food. Flexibility is left to Member States for making available on the market these very lightweight compostable carrier bags, and they are empowered to decide whether to accept or not biodegradable packaging in the bio-waste stream. The amendment requests the Commission to mandate the revision of the EN 13432 standard, in addition to preparing harmonised standards for home compostable packaging.
Parliament is scheduled to adopt its mandate during the 20-23 November 2023 plenary session after which it is ready to start negotiations with EU member states.
European Parliament│ Certification Framework of Carbon Removals
ENVI Committee votes to make carbon farming emission reductions eligible for certification
The report adopted by MEPs in the ENVI committee differentiates amongst carbon removal activities, carbon farming and carbon storage in products, while also fighting greenwashing.
Regarding carbon farming, this category includes both carbon sequestration and emissions reductions, with the latter including activities which results in the reduction of carbon release from a biogenic carbon pool, the reduction of N20 release from agriculture soils or manure management, or the reduction of CH4 release from enteric fermentation or manure management to the atmosphere through a carbon farming activity. Furthermore, according to the amendments agreed, carbon farming activities must bring biodiversity and ecosystems benefits, and lead to emissions reductions lasting no less than five years. For more insights on the ENVI report click
here
.
The Parliament is scheduled to adopt its mandate during the 20-23 November 2023 plenary session after which it is ready to start negotiations with EU member states.
EU Life BioBest project | Workshop: How to best collect bio-waste in high density areas
ECN

Scientific Officer presented results of urban case studies
The first thematic webinar of the project focused on showcasing implementation studies for bio-waste collection in densely populated areas. Tools and methods to address typical challenges were presented related to quality and quantity issues arising in waste collection in multi-family houses. Among the featured speakers was our Scientific Officer, Steffen Walk, who presented a case study from the city of Lübeck in Germany.
The Webinar can still be re-watched on Youtube: here
Steffen's presentation can also be found on the ECN website: here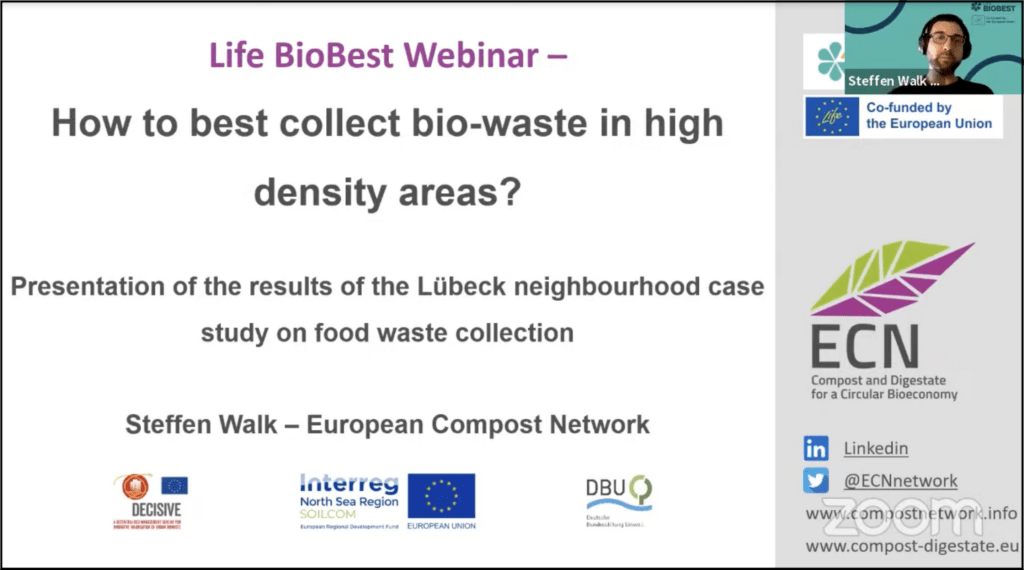 Research - BABBA project consortium releases final report
Biodegradable plastic bags in biowaste treatment
The project (Biologisch abbaubare Beutel in der Bioabfallverwertung – Biodegradable plastic bags in bio-waste treatment), led jointly by the German Fraunhofer Institute and the University of Bayreuth, examined the fate of bio-waste collection bags made of biodegradable plastic (BDP) starting from bio-waste collection, treatment, to their degradation behaviour in soil. Particular emphasis was placed on particles measuring less than 1 mm, which, as per the current German Biowaste Ordinance, are not obligatory to trace
.
The following research questions are an extract of those that were addressed during the project:
Will BDP bags substantially displace conventional plastic bags when provided to the public for free?
The gratuitous distribution of BDP bags did not significantly improve the quality of bio-waste by reducing impurities, considering the provided ones were on the positive catalogue.
Are certified BDP bags fully aerobically degraded into CO2, water, minerals and biomass in industrial composting facilities?
BDP bags do not fully degrade, neither in composting nor in combination with anaerobic digestion under industrial conditions (2 weeks intensive rotting, 4 weeks maturation). Particles < 1 mm mainly comprised polybutylene adipate terephthalate (PBAT) which is among the main ingredients of BDP bags.
Do BDP bags cause more or less microplastics in compost compared to conventional plastic bags?
BDP bags cause a larger fraction of microplastics particles (< 1 mm, mainly PBAT) compared to conventional plastics. The design of BDP bags as well as the treatment plant technology influence the fragmentation process. BDP bags made of Mater-Bi® cause a higher degree of fragmentation compared to those made of Ecovio®.
How is the further degradation behaviour of BDP in soil with and without aerobic (and anaerobic) pre-treatment?
The mineralisation in soil depends on the material composition of BDP. The main ones investigated were Ecovio® and Mater-bi®, two standard blends of BDP used for the production of BDP bags. Ecovio® showed an improved degradation with the material being pre-treated (25%) compared to untreated (5%) after 5 months under ideal conditions. The treatment conditions did not significantly influence the mineralisation of Mater-bi® (14% in both cases). Reference materials wax-coated paper (43%) and the polymer polyhydroxybutyrate (PHB, 46%) showed significantly higher degradation in both cases.
The authors state, that further investigations are necessary, particularly with regards to conducting long-term evaluations of BDP behaviour in soil. Additionally, a revision of the current standards (DIN; EN) governing the certification of BDP bag degradability is advocated.
The project report can be found
here
.
Monitoring of impurities in bio-waste
German initiative #wirfuerbio runs nation-wide biobin control campaign
As part of the #wirfuerbio initiative, a nationwide communication campaign aimed at addressing impurities in biowaste, more than 50 waste management authorities conducted activities between 18th and 29th September 2023.
The central focus of the campaign was the inspection of bio-waste bins. During this period, over 334.000 bins were examined for impurities such as plastics and glass. Unfortunately, more than 15.000 bins couldn't be collected due to the high presence of inappropriate materials. Nonetheless, the organizers were satisfied with the very good results, emphasizing its educational aspect and refraining from imposing penalties.
More detailed information (in German) can be found
here
.
2nd Thematic CORE Interreg Seminar I 26-28 September 2023 I Bolzano (IT)
Composting in Rural Ecosystems
The second thematic seminar of the EU Interreg project CORE was organised by the Italian project partner 'Autonomous Province of Bolzano' in South Tyrol. On behalf of the seven project partners, eight good practices on 'Prevention of organic waste in rural areas' and 'Regulations governing composting in rural areas' were presented and discussed with stakeholders and experts from the ECN. During the three days, 5 composting plants, one anaerobic digestion plant and two regional recycling centres were visited. The successful use of compost was demonstrated in the beautiful and fascinating gardens of Trauttmansdorff Castle.
Impressions and more information about the good practices in rural composting can be found on the project website.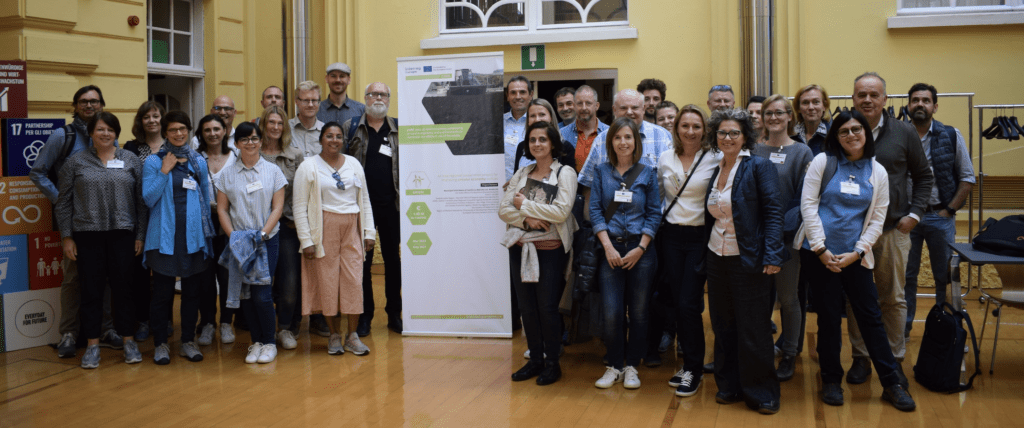 News from ECN Members
Austrian Compost & Biogas Association (KBVÖ) – IPT 2023
Watch the demonstration video of the International Practitioner Day of Composting 2023
The Austrian Compost & Biogas Association has published a demonstration video of the International Practitioner Day of Composting celebrated at the Vienna composting plant 'Lobau' on 7 September 2023.
Please watch the video
here
.
EU Soil Observatory & EU Soil Mission I 21-23 November 2023 I Madrid (ES)
European Soil Mission Week
The Horizon Europe Mission 'A Soil Deal for Europe' (Mission Soil), the EU Soil Observatory Stakeholders' Forum, and the EU-funded PREPSOIL project are joining forces to hold the first edition of the European Mission Soil Week.
The European Mission Soil Week will be an annual event designed as a major European gathering that brings together the European soil community. Researchers, policymakers, farmers, foresters, spatial planners, land owners and managers, businesses and organisations, as well as the public, will meet to discuss the challenges for healthy soils.
The event will be hosted by the Spanish National Research Council (CSIC) and will take place under the Spanish EU Presidency on 21-23 November 2023 in Madrid.
Third EU Soil Observatory Stakeholders Forum
The third EUSO Stakeholders Forum will take place in two parts: a) Working Groups meetings, 15-17 November (online) and b) European Soil Mission Week, Madrid - Spain, 21-23 November (physical meeting). The registrations for the 6 WG (Soil erosion, Soil Pollution, Data sharing & Integration, Soil Monitoring, Soil Biodiversity, Carbon MRV) meetings is open here:
https://ec.europa.eu/eusurvey/runner/EUSOFORUM2023
S.O.S Save Organics in Soil
This international initiative S.O.S. SOIL – Save Organics in Soil, led by the European Compost Network (ECN) and the Italian Composting and Biogas Association (CIC), aims to highlight the importance of soil organic matter to encourage policy makers to develop instruments to move Europe towards implementing sustainable, climate proof soil management practices.
Sign the manifesto 'Save Organigs in Soil' here.
ECN-QAS Trade Mark No 011007168
Trade mark for certified quality assurance
organisations, compost and digestate products
according to ECN-QAS
Website: www.ecn-qas.eu