ECN E-BULLETIN No. 02_2021

European Parliament ENVI Committee

Circular Economy should help to save organics in soil
On Wednesday 27 January, ENVI Committee of the European Parliament adopted an own-initiative report on the New Circular Economy Action Plan calling on the European Commission to support farmers to replace mineral fertilizers with compost and digestate. The European Compost Network welcomes the positive vote of the ENVI Committee on its own initiative report on the New Circular Economy Action …


Report on CEAP adopted by the European Parliament
On 8 February 2021 the Plenary of the European Parliament adopted the report with 574 votes in favour, 22 against and 95 abstentions, is a response to the Commission's Circular Economy Action Plan.
In the plenary debate, MEPs also emphasised that achieving the Green Deal objectives will only be possible if the EU switches to a circular economy model, and that this change will create new jobs and business opportunities. Existing legislation on waste must be implemented more thoroughly, and further measures are needed for key sectors and products, such as textiles, plastics, packaging and electronics, MEPs added.
With regard to bio-waste the Parliament urges the Commission and Member States to ensure that the separate collection of bio-waste, as introduced by the Waste Framework Directive, aims at producing high-quality compost to support soil enhancement non-hazardous chemicals and other products and renewable energy, where feasible and environmentally beneficial.


The Motion of a Resolution can be downloaded here.
EU Commission I Closing date: 28/04/2021
Public consultation on Healthy Soils - a New Soil Strategy for Europe

Soils are essential ecosystems that deliver valuable services such as the provision of food, energy and raw materials, carbon sequestration, water purification and infiltration, nutrient regulation, pest control and recreation. Therefore, soil is crucial for fighting climate change, protecting human health, safeguarding biodiversity and ecosystems and ensuring food security. Healthy soils are a key enabler to achieve the objectives of the European Green Deal such as climate neutrality, biodiversity restoration, zero pollution, healthy and sustainable food systems and a resilient environment.
The EU Biodiversity Strategy for 2030 announced the update of the 2006 EU Soil Thematic Strategy to address soil and land degradation in a comprehensive way and to help achieve land degradation neutrality by 2030. The Biodiversity Strategy for 2030 highlights that it is essential to step up efforts to protect soil fertility, reduce erosion and increase soil organic matter. Significant progress is also needed on identifying contaminated sites, restoring degraded soils, defining the conditions for their good ecological status and improving the monitoring of soil quality.


Please respond to the public consultation here.
European Soil Data Centre
Land Degradation in Global Arable Lands
Land degradation is a global environmental issue that affects the world's arable lands on a large scale, thus threatening global food production systems. A recent study
Arable lands under the pressure of multiple land degradation processes. A global perspective
analyses the land degradation footprint on global arable lands, using complex geospatial data on certain major degradation processes, i.e. aridity, soil erosion, vegetation decline, soil salinization and soil organic carbon decline.
By applying geostatistical techniques that are representative for identifying the incidence of the five land degradation processes in global arable lands, results showed that aridity is by far the largest singular pressure for these agricultural systems, affecting ~40% of the arable lands' area, which cover approximately 14 million km2 globally. Therefore, the world's arable lands are particularly vulnerable to uni-degradation (the incidence of a single degradation process), through large-scale aridity conditions. Also, it was found that soil erosion is another major degradation process, the unilateral impact of which affects ~20% of global arable systems.
While agricultural systems are a major pillar in global food security, their productivity is currently threatened by many environmental issues triggered by anthropogenic climate change and human activities, such as land degradation. However, the planetary spatial footprint of land degradation processes on arable lands, which can be considered a major component of global agricultural systems, is still insufficiently well understood. The results of this study showed, among others, that aridity and soil erosion simultaneously affect an additional ~7% of global arable lands, which makes this synergy the most common form of multi-degradation (multiple pressure of land degradative conditions) across the world's arable areas. This study's findings can be useful for prioritizing agricultural management actions that can mitigate the negative effects of the two degradation processes or of others that currently affect many arable systems across the planet. Details can be found in the recent published paper published by the European Soil Data Centre: https://esdac.jrc.ec.europa.eu/content/land-degradation-global-arable-lands
EU Commission I Fertilisng Product Regulation I FAQ
Frequently Asked Questions on EU Fertilising Products Regulation published
The Frequently Asked Questions (FAQs)document aims in facilitating the implementation of the Fertilising Products Regulation('FPR') by providing guidance to both national authorities and economic operators. In this regard, this document focuses on issues that could raise difficulties in practice.
The answers in the FAQs document represent the opinion of the Commission services in charge of the FPR, but may not necessarily represent the opinion of the Commission. The document does not constitute any formal commitment on behalf of the Commission. Only the Court of Justice of the European Union can give an authoritative interpretation of the EU legislation. These answers have been discussed in the Commission expert group on Fertilising Products in the meetings held on 7 November 2019, 25 June and 24 November2020 and endorsed by the Group on24 November 2020.
All documents concerning these meetings can be found on the CircABC page of the group. The FAQs is by definition a living document, which will be periodically updated by the Commission services depending on the need.


Development of Residential Door-to-Door Separate Collection at Porto Region
Today, 199.900 inhabitants of LIPOR's associated Municipalities (Espinho, Gondomar, Maia, Matosinhos, Porto, Póvoa de Varzim, Valongo and Vila do Conde) are served with residential Door-to-Door separate collection.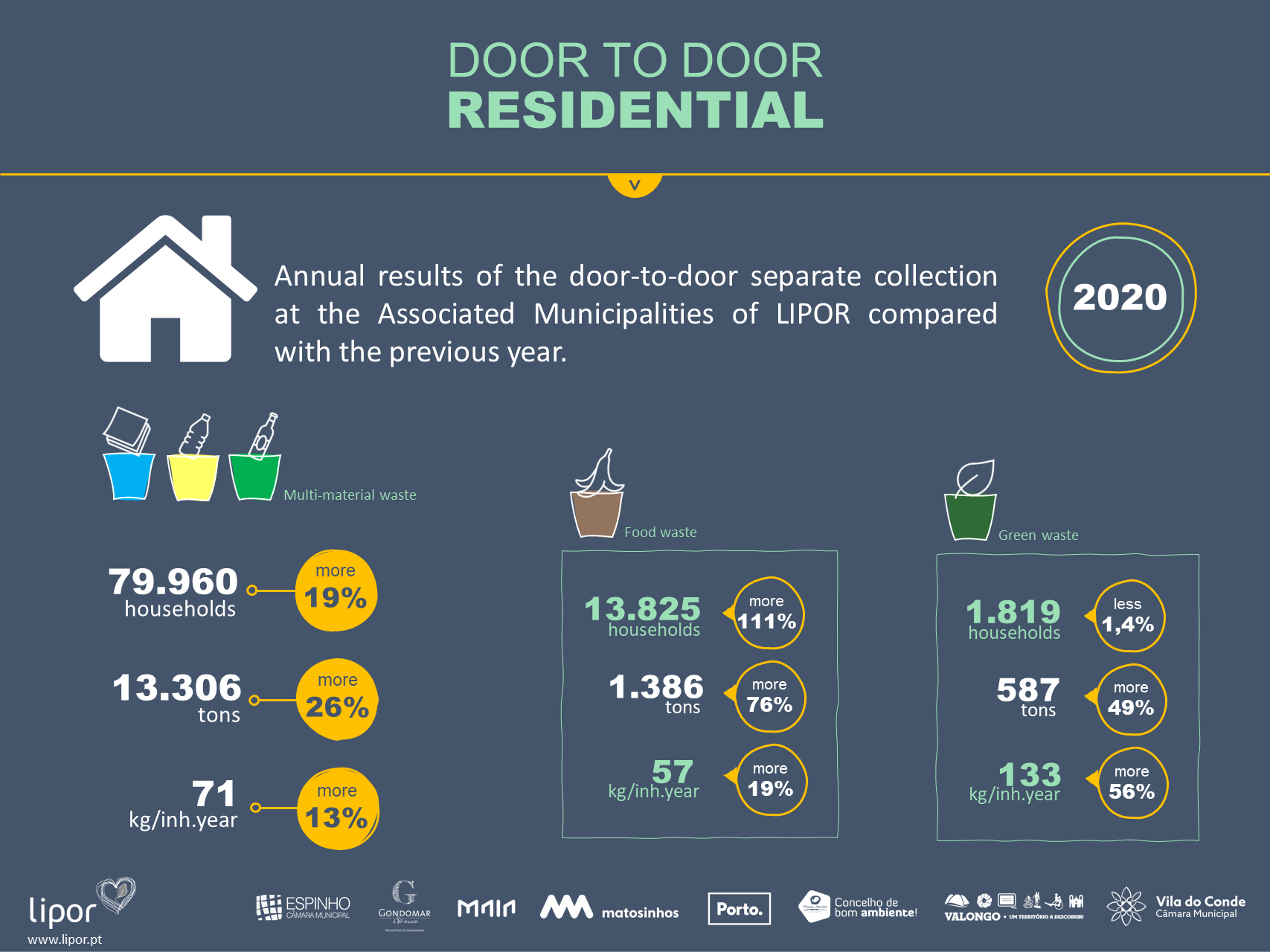 In 2020, these citizens sent for composting and sorting and recycling 15,279 tons of waste, which represents an increase of 31% compared to 2019.
Thus, in 2020 LIPOR received 13,306 tons of materials for recycling (plastic and metal, paper and cardboard, glass) at its Sorting Plant and Operational Platforms and at the Composting Plant 1,974 tons of bio-waste (food waste and garden waste) from separate door-to-door residential collection.
The recovery and recycling of 15,279 tons of dry recyclables materials and bio-waste made it possible to avoid the emission of 8,935 tons of CO2eq.
Additionally, in 2020 almost 14,720 tons of food waste were separately collected from HoReCa sector. In total, more than 39,000 tons of bio-waste were collected and sent for composting at Porto Region.
These figures are the result of the strong investment that LIPOR and its associated Municipalities have been making in expanding the Door-to-Door Separate Collection System to more residential areas, aiming to increase the amount of materials sent for recycling and reinforce the involvement of the population in a circular economy.


Announcements

09/03/2021 Baltic Sea Action Group
Carbon Action science webinar: Soil, carbon sequestration and water protection
The webinar is organized by the Baltic Sea Action Group (BSAG) as part of the MULTA project. The MULTA project is funded by the Strategic Research Council, and it is on the Carbon Action platform. SEB provides facilities for the webinar as part of the Baltic Sea co-operation with BSAG.
Carbon Action is a Finnish platform that accelerates soil carbon sequestration and researches scientific verification methods. It also introduces climate-friendly, regenerative farming practices to Finnish farms. The platform is led by BSAG and the scientific research is coordinated by the Finnish Meteorological Institute (FMI).
Edit this to insert text.
15-17 June 2021, Australia
AORA ANNUAL CONFERENCE – Pathways to Sustainable Growth
AORA is thrilled to launch the program for the AORA 2021 Annual Conference - Pathways to Sustainable Growth, taking place from 15 - 17 June at the Crowne Plaza Hunter Valley
The Conference Program Committee have gathered a high calibre group of local and international experts who will be sharing their experiences, projects and practical information, including:

Jeff Lowenfels, Author - The Teaming Series Books on Organic Growing (USA), Dr Jeff Baldock, Soil Scientist and Aurel Lübke, Compost Systems (Austria)
Hon Trevor Evans MP, Assistant Minister for Waste Reduction and Environmental Management to open the conference Wed 16 June.
Poster Presentations featuring the case studies and the latest industry research within the Trade Exhibition
Sessions looking at carbon, international practices, collection systems, food and garden organics, engagement, and application of recycled organics in agriculture to name just a few.
Live equipment demonstrations - see grinders, screens, turners and other equipment in operation, compare models and meet with suppliers all in the one place
Networking – connect with industry colleagues during the conference and at the Networking Event and Gala Dinner
Please find the program here.
Don't miss your chance to attend the premier gathering of Australia's recycled organics industry stakeholders - secure your place today. Please register here.
Registration open - GowingMedia2021

The 2nd International Symposium on Growing Media, Soilless Cultivation, and Compost Utilization in Horticulture (ISHS)
conference will focus on the following topics:

Growing media and sustainable use of resources
Integrated disease and pest control via interaction with the growing medium
Soilless cultivation: added value of innovations for water and nutrient use efficiency
Compost utilization in horticulture and its potential for carbon storage
Please register for GrowingMedia2021 here.
Austrian Compost & Biogas Association
7th International Practionner Day for Composting
The 7th International Practionner Day for Composting will take place on 16th September 2021 in Langenlois/NÖ (AT) organised by the Austrian Compost & Biogas Associaton.
ECN-QAS Trade Mark No 011007168
Trade mark for certified quality assurance
organisations, compost and digestate products
according to ECN-QAS
Website: www.ecn-qas.eu