On the 28 May, the organisations of EUROCITIES, Municipal Waste Europe, European Compost Network, City of Oslo and the Urban Agenda Partnership on Circular Economy organised the workshop "The road to an urban bioeconomy: Barriers and solutions to closing the loop of bio-resources" in Brussels with more than 70 participants. The participants identified and discussed different barriers and possible solutions to help cities to a better management of bio-resources.
Europe has taken an important first step in its ambition to achieve a circular bioeconomy by agreeing new rules for separate bio-waste collection and recycling. This is a significant milestone for the composting, anaerobic digestion sectors and bio-refineries, which are now poised to play a pivotal role in transforming bio-wastes into valuable products such as compost, renewable energy and bio-based products such as chemicals and plastics. As only about one-third of Europe's bio-waste is currently recycled, this presents a momentous opportunity for the sector to invest in new infrastructure, manufacture sustainable products and create an additional 50 000 jobs within a European circular bioeconomy.

As an outcome of the roundtable discussion at the workshop 9 recommendations were identified to achieve the new agreed bio-waste targets. 
 
1.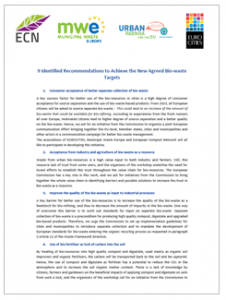 Consumer acceptance of better separate collection of bio-waste
2.

Acceptance from industry and agriculture of bio-waste as a resource


3.
Improvement in the quality of bio-waste input to industrial processes
4.

Use of bio-fertiliser as lock of carbon into the soil
5.

Regulatory barriers for better use of bio-resources
6.

The need for research and support of new technologies
7.

Understanding the value of urban bio-waste and its valorisation and recovery through the production of high-value bio-based products – economic, social and sustainability aspects
8.

Developing a European bioeconomy
9.

Local governance for better bio-resource management
Based on these recommendations the organisers of the workshop will follow-up the discussion with the European Commission.

The joint recommendations can be downloaded here.
 


EU Waste Legislation
Consolidated versions published
On 4 July the new waste legislations came into force and are now available as consolidated versions in all EU languages on the European Commission's website 'EUR-Lex':

Waste Framework Directive: CELEX 02008L0098 20180705 (EN)

Packaging and Packaging Waste Directive: CELEX 01994L0062 20180704 (EN)

Landfill Directive: CELEX 01999L0031 20180704 (EN)

To find the documents in other languages please visit the EUR-Lex website and search for the CELEX number.
 



European Compost Network
New Task Groups on 'Soil & Organic Matter' and 'Bioplastics' established
With reference to ECN's work schedule 2018 and as presented at the Annual Meeting 2018 ECN has activated two new Task Groups (TG) to follow up the topics on biodegradable plastics in relation to the Circular Economy Package (Waste framework Directive/EU Plastic Strategy) and soil organic matter in relation to the legislative proposal on the Common Agricultural Policy (CAP), the Bio-economy Strategy and the UN's Sustainable Development Goals on climate change adaptation and mitigation.

Both tasks groups will take up their work having a kick-off meeting in October:
TG 'Soil & Organic Matter' (Chair: Adrie Veeken - DWMA, NL), 4 October 2018, Bochum (DE)
TG 'Bioplastics' (Chair: Marco Ricci - CIC, IT), 15 October 2018, Milan (IT)
ECN members can still register for joining the task groups and for participation in the kick-off meetings by sending an email to info@compostnetwork.info.
 

Announcement

Registration open
World Resource Forum 2019 - 24-27 February 2019

World Resources Forum (WRF) and the Public Waste Agency of Flanders (OVAM) have opened the registrations for the World Resources Forum 2019 "Closing Loops - Transitions at Work.

This edition will take place from 24 to 27 February 2019 at the Flanders Meeting and Convention Center in Antwerp. Fast subscribers can enjoy the early bird rates until 15 November 2018.
Together with the opening of the registrations, the organisers also present a first, preliminary version of the program. More keynote speakers will soon be announced.

Registration and further information here.