ISWA Study Tour will take place from 29 September to 3 October 2019 and will start in Milan, Italy. The International Solid Waste Association (ISWA) is a global, independent and non-profit association, working in the public interest to promote and develop sustainable and professional waste management worldwide.
In cooperation with CIC, ECN, ECOMONDO and ATIA ISWA ITALIA, this four-day Study Tour will give municipal solid waste managers and decision-makers an overview of current best-practices in separate collection and recycling of organic waste in record setting Northern Italian cities: Milan and Verona.

You will learn from accompanied technical site visits and workshops by senior international experts from leading organisations such as ISWA, CIC, ECN and Ecomondo. The focus of both technical site facilities and workshops is the efficient operational solutions, effective instruments and tools supplied to households to enhance collection and the potential role of compostable bioplastics for the recycling of household biowaste. Circular economy for organic waste needs recycling facilities and the ISWA Study Tour covers composting to biomethane production both in medium and jumbo scale; plus new techniques such as recovery of CO2 and excess heat will be explored.

Topics include:
Circular Economy for the bio-waste sector in Europe

Separate bio-waste collections in different metropolitan areas and in smaller settlements

The role of compostable plastics

Best practices and treatment facilities for the treatment of organic waste collected in cities

Composting, anaerobic digestion and biorefineries (Innovative aerobic biological treatment)

Upgrading techniques from biogas to biomethane (i.e. green natural gas)

CO

2

recycling at biogas facilities: technologies and opportunities

MBT treatment of mixed MSW

Compost and soil: climate impacts
ECN members are kindly invited to take part in this Study Tour with a reduced fee.
More information on the ISWA Study Tour can be found here.
 


IMPEL - Making the Circular Economy Work
Guidance for Regulators on Enabling Innovations for the Circular Economy
IMPEL, a network of regulators aimed at enforcement and implementation of Environnemental Laws, has published a guidance to support regulators, policy- and law-makers and businesses on how to best implement a circular economy.

A crucial element in the transition to the Circular Economy are the innovations at production and recycling facilities that aim at resource efficiency, the prevention of waste and the use of production residues  or materials recovered from waste as secondary raw materials. A key condition for making these circular innovations work is to better connect policy, law and regulation on the ground.

This guidance aims to help regulators to:
Understand the complexity as well as the opportunities in EU  environmental law;

Identify how they can organise themselves more effectively;

Work more effectively with policy and law makers; 

Better understand the needs and concerns of innovative businesses.
The guidance also aims to help policy- and law-makers to: 
Understand the challenges regulators and businesses face in implementing the circular economy; 

Work more effectively in supporting and assisting regulators.
Furthermore, the guidance can be of use for businesses considering, developing or implementing circular innovations.
The guidance can be downloaded here.
 


SOFIE 2019 in Brussels
The first Summit of the Organic and Organo-Mineral Fertiliser Industry in Europe (SOFIE)

On 5 and 6 June 2019 in Brussels will take place the first Summit of the Organic and Organo-mineral Fertiliser Industry in Europe organized by ESPP in partnership with IFS (International Fertiliser Society).

The first Summit of the Organic Fertiliser Industry in Europe
will bring together different parts of the fertiliser industry (organic, organo-mineral, mineral) and agronomists. The conference includes the presentation of the new European Fertilisers Regulation by the European Commission DG GROW, and discussion of implementation and new standards for organic and organo-mineral fertilisers.

By bringing together organic and organo-mineral fertiliser producers from across Europe and beyond, this first Summit will enable dialogue on application, product and market development, and aims to help move nutrient recycling towards identifying farmers needs and how secondary nutrients can be processed into forms with a market.

On this occasion, the European Compost Network will present the 'opportunities and challenges of the new Fertilising Product Regulation for placing compost and digestate on the European market'. There will also be organic and organic-mineral fertilizer manufacturers (CEOs, agronomic or development directors), agronomic / fertilizer scientists, legal experts and the European Commission.
 
More information on the SOFIE can be found here.

The program of the conference can be downloaded here.






ECN Status Report 2019
European Bio-Waste Management

In April, ECN published its first "STATUS REPORT" on European bio-waste management, summarising the extent to which eighteen European countries collect bio-waste, process it in biological treatment plants and market the various compost and digestate products.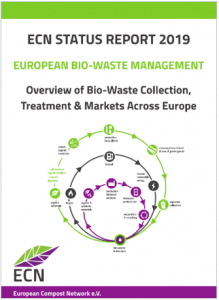 The online-version can be ordered for 50 € and the printed version for 75 € plus shipping costs by sending an email to info@compostnetwork.info. For ECN members, the PDF online-version is available for free on the ECN website in the internal part.
 
For more information concerning the ECN STATUS REPORT, please find the press release here.