The European Commission proposes to implement a mission in the area of "Soil health and food" as part of the next research programme Horizon Europe. Missions are a new instrument for research and innovation.

A mission in the area of soil health and food will raise awareness on the importance of soils for food production and other important services/functions. It will deliver knowledge and solutions to manage soils in more sustainable ways so that they are preserved for future generations.The Commission opened a public consultation that will support the scope of the mission. The survey will take around 10 min. There is time to take part in the consultation until 19 January 2020.

To take part in the consultation, please follow the link here.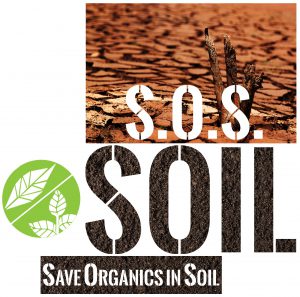 S.O.S Initiative
Sign the S.O.S. Save Organics in Soil initiative!

In relation to the new Roadmap on Circular Economy, the New Green Deal and the Agenda 2030 ECN will focus in 2020 on soil organic matter by encouraging the sustainable use of compost and digestate to improve soil organic matter.

Therefore, we have initiated in 2019 the S.O.S. Save Organics in Soil in initiative. So far, more than 70 stakeholders have signed the manifesto. If you haven't signed the initiative so far, please use the online signature tool on our website and please distribute the manifesto to further interested parties (national stakeholders, companies, researchers etc)!






ECN Position
ECN Statement and Comments on 'Risk Assessment Study on Compost and Digestate'

End of 2017 the Directorate generale for Environment (DG ENV, B2 Unit Sustainable Chemicals) has contracted Wood (Wood Environment & Infrastructure Solutions UK Limited) for a risk assessment study on digestate and compost as fertilisers. The objective of this study was to figure out further contaminants of potential risks in compost and digestate from different input materials and based on different risk assessment options further possible regulatory actions, like additional restrictions under REACH.

ECN was very critical against this study from the beginning as it puts in question somehow the outcome of the EoW JRC report 2014 and the settings of end of waste critieria for compost and digestate in the new EU Fertilising Product Regulation. We delivered only data on bio-waste management, but we didn't submit new analytical data, as these were all included in the EoW JRC report 2014 and in the FATE COMES study of JRC 2013.

In 2019, the final report of Wood was published including new proposed 'safe limits' which are completely not in line with our limit in ECN-QAS, nor with the proposed EoW criteria for compost and digestate of the JRC report, nor with the defined criteria in the new EU Fertilisng Product Regulation. So far, the Commission has not taken any opinion on this report and has not planned any regulatory actions. The study will be used as background study for a new study in the context of the revision on the Urban Waste Water Treatment Directive.

End of 2019, ECN submitted a statement to the Commission to recall the study and provided specific comments on the study. Please find the ECN statement on the risk assessment study on compost and digestate here.






ECN Factsheet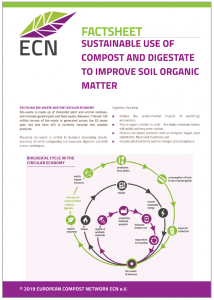 Sustainable Use of Compost and Digestate to improve Soil Organic Matter

ECN will support the S.O.S. Soil initiative with a series of factsheets on the beneficial use of compost and digestate for soils, which are part of the work schedule of ECN's Task Group 'Soil and Organic Matter'.

The overall factsheet 'Sustainable use of compost and digestate to improve soil organic matter' was published end of 2019 and is available for download in 'English' and 'Polish' on our website.



News from ECN members

Vlaco participates in HORIZON2020 project 'NUTRIMAN'
Since October 2018 Vlaco (BE/Flanders) is actively involved the HORIZON2020 project 'NUTRIMAN'. NUTRIMAN stands for 'Nutrient Management and Nutrient Recovery Thematic Network'.

This is a Nitrogen and Phosphorus thematic network of 14 European partners compiling and sharing knowledge of "ready-for-practice" recovered bio-based fertiliser technologies, products, applications and practices for the benefit of agricultural practitioners. The project partners focus on connecting market competitive and commercially "ready for practice" innovative results drawn from high research maturity applied scientific programmes and common industrial practices.  The project brings together innovation actors (farmers, advisors, researchers, businesses, NGOs, etc.) and helps to build bridges between user-oriented applied research results and agricultural production practices.

NUTRIMAN ensures that when the new EU Fertilising Products Regulation law harmonization is reaching implementation status by 2022, the agricultural practitioners already know, have tried and are applying such recovered products in practice.
Until the end of the project time (March 2021) several training materials, abstracts, videos and factsheets will be prepared and published: https://nutriman.net/farmer-platform.

Please find more information about the project (in 8 languages) on the project website: https://nutriman.net/

Cré (IR)
EPA Funded Research Project 'BioPost': Job opportunities
 
Trinity College Dublin, University College Dublin and Cré are delighted to announce commencement of a research project on BioPost – 'Sustainable, biodegradable, compostable and recyclable plastics for packaging and end of life management'. This project is funded under the EPA Research Programme 2014-2020. The EPA Research Programme is a Government of Ireland initiative funded by the Department of Communications, Climate Action and Environment.
 
BioPost aim is to develop sustainable environmentally friendly plastics to address the real world problems of current plastics. BioPost will focus on using commercially available and indigenous novel biodegradable polymers and develop composites suitable for packaging applications and evaluate their end-of-life options; separation from mixed plastic waste, recyclability, compostability and biodegradability under standard industrial conditions.
 
Currently the project is recruiting researchers to work on the project. (see links below)
Job Description PDF BioICEP 2020
Job Description PDF EPA 2020
Job Description RA EPA 2020
 
For further Information contact:
Prof. Ramesh Padamati, E: BABUP@tcd.ie
 



Announcements
14th Humusday of the Ecoregion Kaindorf (AT)

On 20 and 21 January the 14th Humusday of the Ecoregion Kaindorf is scheduled under the title 'Humus build-up as chances for farmers and climate'. 

Up-to-date knowledge and practical experiences will open new perspectives for farmers. Please find the programme (only in German) here.