The annual week of compost awareness (ICAW) raising has been embraced by compost organisations across the world, including ECN. This year's theme 'Soil loves Compost' is scheduled for the 3-9 May.
 
Despite the international emergency due to COVID-19, the main associations engaged in promoting the recovery of organic waste through composting are working synergistically to ensure that ICAW 2020 takes place regularly, even if in a different way than usual.
 
The ECN (European Compost Network) together with CIC (Italian Composting and Biogas Association), CRE (Composting & Anaerobic Digestion Association of Ireland), AORA (Australian Organics Recycling Association Ltd), Composting Council Research & Education Foundation, The Compost Council of Canada, Garden Organics and the Ministry of the Environment of the Czech Republic, has joined the initiative and will promote ICAW through its Social Medias, websites and emails to their Members.
 
The joint press release about the ICAW-2020 can be downloaded here
More information on ICAW is available here. 
 



ISWA's Soils Project
First report on Global Assessment of Municipal Organic Waste Production and Recycling published

Soils are an endangered ecosystem globally and there is currently great interest in reducing erosion and improving the organic matter content of soils. ISWA's Soils Project aims at 'quantifying the benefit of organic matter in compost and digestate when applied to soils' takes a lead in providing robust evidence base to link waste management and soil enhancement/improvement.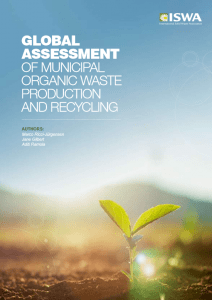 The project reports summarize current knowledge about the fate of recycled carbon in soils, in particular, its sequestration and effects on soils by talking about key areas of the world where threats to soils are severe and could benefit from organic matter inputs.
These reports will also provide a tool for waste planners/managers and farmers, summarising how composting and anaerobic digestion can be used in different country situations, and how quality assured products can be usefully applied to soils.
 
The first of five upcoming reports is now published, and a kick-off meeting by presenting the first publication will be organised on 6 May 2020 at 3 pm (CET).
 
To take part in the webinar, please register here.

To download the report, please follow the link here.


European Commission
A new greenhouse gas emission reduction target for 2030 is to be set to achieve carbon neutrality
The European Commission is calling on experts and stakeholders to provide their opinion on how to increase the ambition of the GHG emission reduction target in a responsible way. There is time to take part on the online survey until 23 June 2020.
Back in 2014, all Member States of the European Union committed to reduce GHG emissions of at least 40 % (compared to 1990 levels) by 2030. However, this would not allow to address effectively the climate challenge and more ambition is needed. Therefore, the EU is currently working on a new common energy and climate strategy. This strategy will show how to increase the GHG emission reduction target to at least 50% by 2030. The Commission intends to present its comprehensive plan after the summer.

The action plan will set a new policy framework to drive decarbonisation of crucial economic sectors, namely services, buildings, industry, mobility/transport, energy supply, agriculture, forestry, and waste management.

It will be challenging for European economies, especially after the COVID-19 crisis to find their way to sustainable development and transition themselves to carbon neutrality. The main challenges of the transition concern energy security, competitiveness, jobs, and decoupling economic growth from resource consumption. Also, the new growth model should aim not only to reduce environmental impacts and degradation but also restore biodiversity. The waste sector generates GHG emissions through disposal – e.g. via landfilling and incineration of waste. However, waste sector also helps to reducing GHG emissions via recycling and reuse. Using recycled materials do not only saves natural resources but allows also for significant energy savings. An ambitious GHG emissions reduction plan should establish an enabling framework for Member States to comply with their recycling targets.

Next to that, biological treatment of waste allows to recover organic materials that can be used as soil improvers. Compost application to land allows to recover and store soil carbon content, and it enhances the quality and fertility of soils. It will also help agriculture and forestry to absorb more GHG emission in the long run, while securing nutritious food availability for all Europeans.

The Commission opened a public consultation to collect experts and stakeholders' opinions via an online survey on the Commission website. The results of the consultation will inform the content of the strategy.

The Commission will also adopt new proposals to revise several pieces of both energy and climate legislation, such as:
Renewable energy directive – for instance by increasing renewable energy targets

Emission trading system (ETS) regulation and effort sharing regulation (ESR) – for instance by including new sectors, currently under ESR scope, under the ETS

Land Use, Land Use Change and Forestry Regulation (LULUCF) – for instance by developing an EU methodology to certify CO2 removal credits for farmers who increase soil carbon content.


Industrial Emission Directive (IED)
A revision of the IED might set targets on GHG emissions reduction for all industrial installation

The European Commission (EC) will likely present a proposal to revise the Directive by the end of 2021 after collecting experts and stakeholders' opinions via an online survey in Q4 2020. The EC will also conduct an impact assessment to look at all economic, social and environmental impacts.

Directive 2010/75/EU of the European Parliament and the Council on industrial emissions (the Industrial Emissions Directive or IED) is the main EU instrument regulating pollutant emissions to air, water and soil from industrial installations.

Industrial activities listed in Annex I of the IED, including waste treatment operations, are required to operate in accordance with a permit which is granted by the authorities in the Member States. The permits must cover emissions to air, water and land, generation of waste, use of raw materials, energy efficiency, noise, prevention of accidents, and restoration of the site upon closure. The permit conditions include emission limit values. They are based on the Best Available Techniques (BAT). The IED allows competent authorities some flexibility to set less strict emission limit values. This is possible only in specific cases where achieving the emission levels would lead to higher costs.
The IED should be aligned with the green deal and the efforts to cut greenhouse gas emissions. The EC will likely set emission limit values for GHGs for all industrial installations. The EC also need to coordinate the IED with climate legislation – e.g. Emission Trading System Directive and Effort Sharing Regulation.

The recent evaluation of the IED has identified some areas of improvement. The EC will evaluate to include in the scope of the directive installations carrying out biological treatment of non-hazardous waste with a capacity below 75 tonnes per day, which are currently excluded.
Other changes that will likely be integrated concern:
Revising the current system derogations from BAT conclusions based on economic reasoning

Revising the process for the elaboration of BAT conclusions at EU level

Facilitating access to information to general public

Integrating BAT conclusions with indicator to measure waste generation in order to promote technologies that reduce the production of residuals.

Announcements

9-10 September 2020, Tallinn (EE)
EIP-AGRI workshop 'Towards carbon neutral agriculture'

The new date for the EIP_AGRI workshop 'Towards carbon neutral agriculture' is postponed until 9-10 September 2020. 
The European Commission and the EIP AGRI Service Point are looking for farmers and other participants with experience in designing and/or implementing farming systems or practices contributing to reducing the carbon footprint of the European agricultural sector.The topic of the workshop is highly relevant to the main political priorities of the Commission and in particular the European Green Deal initiative aiming at climate neutrality by 2050.
 
Further information and the application can be accessed here.






Munich (DE)
IFAT postponed until 2022

The World's Leading Trade Fair for Water, Sewage, Waste and Raw Materials Management is postponed until 30 May to 3 June 2022.
 
Further information: http://www.ifat.de/en/visitors/information/plan-your-stay/
 


Cambridge (UK)
RAMIRAN - postponed until 2021
The RAMIRAN 2020 under the title 'Managing Organic Resources in a Changing Environment' is postponed until 20-23 September 2021.

Abstract submission details for the re-arranged conference will be published on the RAMIRAN 2020 Conference website in due course.

 https://www.ramiran2020.org/
 

 
Thanks to all waste managers!

We would like to thank all waste collectors and managers to keep the waste business running in this Corona crisis.

Keep your health and take care!

The ECN Team