At the ISWA World Congress on 8 October, the President of the International Solid Waste Association (ISWA), Mr Antonis Mavropoulos, and Chair of the European Compost Network (ECN), Ms Kristel Vandenbroek signed the new S.O.S. Soil Initiative.
The initiative, led by ECN and the Italian Compost and Anaerobic Digestion Association (CIC) aims to highlight the importance of soil organic matter to encourage policy makers to develop instruments to move Europe towards implementing sustainable, climate proof soil management practices.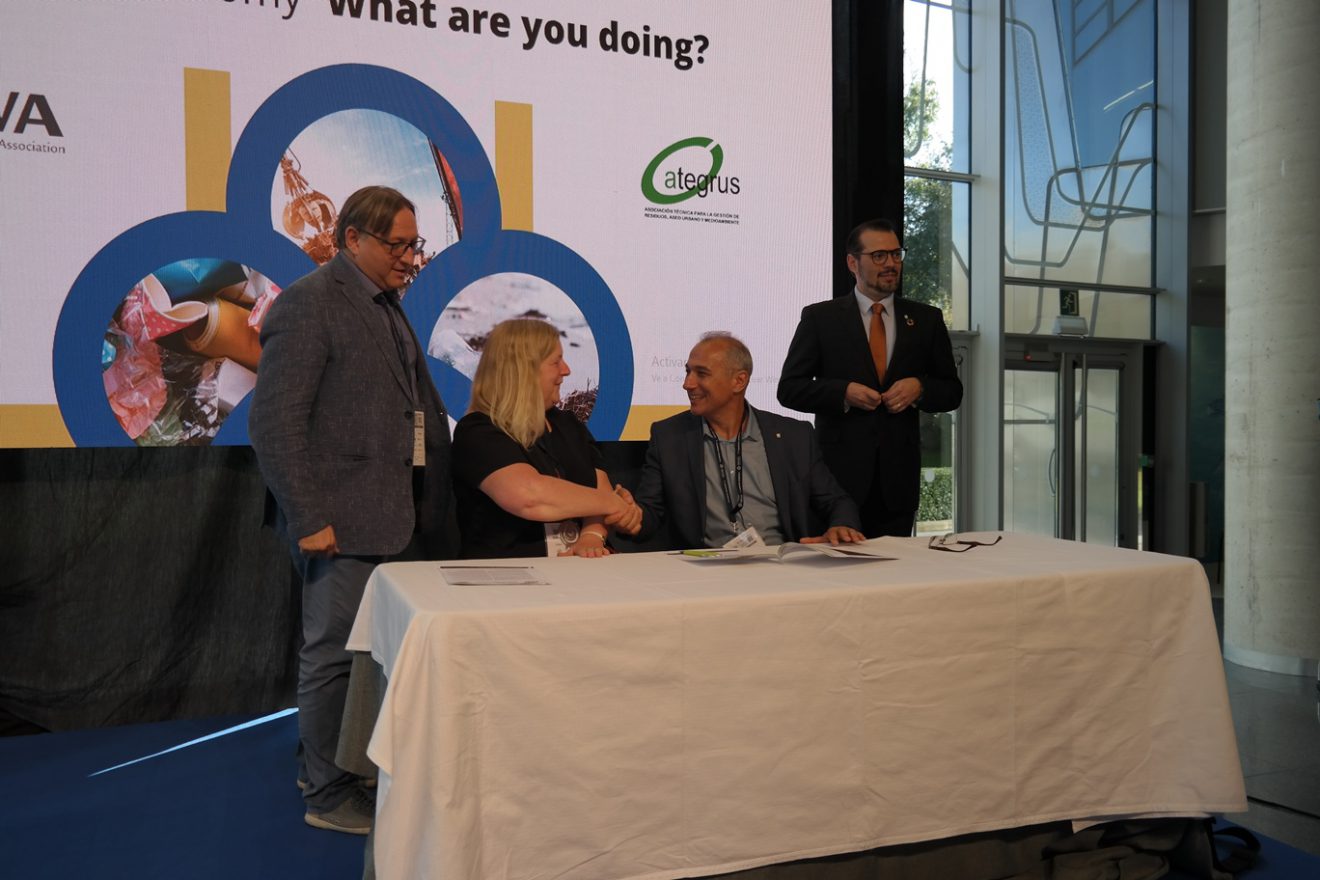 M. Centemero (CIC), K. Vandenbroek (Chair of ECN), A. Mavropoulos (President of ISWA), RV Silva Filho (ISWA) (from left)

Please find the full press release here.






New EU Commission
All the European Commission portfolio assignments for the period 2019-2024

Newly elected European Commission President Ursula von der Leyen introduced her team of commissioners. The term of the new Commission will start as of 1 November 2019, after the vote of approval of the European Parliament.

European Commission 2019-2024 – who is who?

Frans Timmermans (S&D, Dutch) Executive Vice-President-designate for the European Green Deal;
Virginius Sinkevičius (Greens/EFA, Lithuanian) Commissioner-designate for Environment and Oceans;
Janus Wojciechowski (ECR, Polish) Commissioner-designate for Agriculture;
Frans Timmermans is Executive Vice President designate for the European Green Deal, one of the six political priorities of von der Leyen's Presidency and he is also Commissioner-designate for Climate action.

In his first 100 days in office, Timmermans will propose the first European Climate Law to enshrine the 2050 climate-neutrality target into legislation. Moreover, he has to raise ambition of 2030 emission reduction target to at least 50%, up from the 40% currently agreed.

Not-to-be-missed points include the conclusion of negotiations on a modern and simplified Common Agricultural Policy for the post-2020 period and its straightforward implementation, as well as the new initiative for climate culture in Europe – European Climate Pact. This pact brings together regions, municipalities, civil society, industry and schools to design and commit to a set of common pledges to change behaviours across society.

Environment and Oceans Commissioner Sinkevičius will conclude the evaluation of Biodiversity strategy 2020 and will lead the work on a new Biodiversity strategy for 2030. ECN presence in Brussels is key to ease the dialogue with the institutions and push for a new Commission proposal for a framework directive to protect soil.

For more information, please download the official press release: here.
 


ECN Announcements
 
Welcome of new ECN members
Three new European members have joined ECN in the last months: ECN welcomes a scientist from Cyprus, a company from Romania and an association from Serbia as new members.

Cyprus:
Mr Munoo Prasaad is actively involved in studies in the field of composting of different organic wastes since many years. He has worked for Board Na Mona (IE) as a Chief Scientist. Considerable saving applicition of inorganic mineral macro- and micro-nutrients resulted from his research. Before he worked for around 20 years for the New Zealand Agricultural Ministry. He has also experience in practical large scale composting.
Mr Prasad was involved in the work of a number of international organisations (e.g. European CEN 223, National Standards Authority Ireland).

Nowadays he works as a Research Consultant on a commercial basis in Ireland and Cyprus. He is a External Collaborator at the Cyprus Agricuitural Research Institute, Nicosia since 2009 and Special Scientist, Cyprus University of Technology, Limasso from 2015.

Romania:
Tehnopol is a an association founded from different public institutions, the university and the private economic sector. Tehnopol is implementing the project 'Waste free rivers for a clean Black Sea'. They want to reach improvements for the environment by cross-border cooperaration between Georgia, Moldavia and Romania. The association will promote modern waste management practices and increase environmental awareness.

Serbia:
The new founded company 'Eko servis' has the aim to start bio-waste collection and composting in the area of Belgrade. According to Eko servis, by now there is no composting of bio-waste in Serbia at all.





Updated Country reports

Several Country reports of our EU member states have been updated. Austria has provided a report for the first time. Others have incorporated the latest numbers and developments.

The Country reports give an overview of the situation of bio-waste management in the countries and they are all available in the publication section of the ECN website:

https://www.compostnetwork.info/publications/

Updated Country reports are available for: Austria, Belgium (Flanders), Estland, Finland, Italy, Lithuania, Netherlands and Slovenia.





Events

IPT 2019 (AT)
The Compost and Biogas Association of Austria (KBVÖ) has organised the 6th International Practioner Day in Alberndorf (AT) on the 19 September 2019.

Hundreds of visitors came to see the latest machinery and techniques as well as trends like 'composting 4.0'. The mostly regional suppliers used the possibility to demonstrate mobile machines for shredding von biomass as well as latest techniques regarding turning, sieving, measure, regulating and transportation.

More information on the IPT 2019 is available on the  KBVÖ website.

The 'Austrian Study Tour and Training Course 2019' on Bio-Waste Recycling organized in co-operation with '100 NGO' also visited the IPT. 22 Participants from Greece, Estonia, Czech Republic, Italy, India, Philippines and Austria experienced an intensive mix of seminars and site visits meeting practitioners in collection, municipal recycling schemes, composting and anaerobic digestion.

More information on the Austrian Study Tour is available here.