ECN E-BULLETIN No. 7_2022

ECN's 20th Anniversary Celebration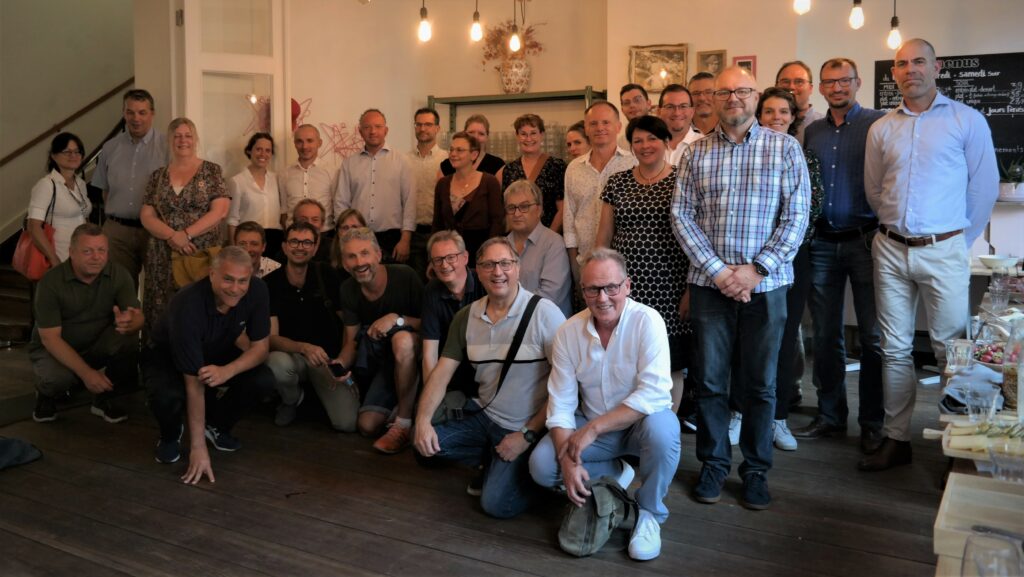 The ECN successfully celebrated its 20th anniversary with its members and friends on June 29th.
Since the foundation of the ECN, it has been recognised as an authoritative voice for Europe's biological waste management sector by supporting the separate collection and high-quality recycling of organic resources. Therefore, we were very pleased to be able to celebrate the ECNs success with our members and friends with a very special birthday celebration. The celebration took place at the restaurant les filles.
We are thankful for the abundance of guests that joined our party!
ECN Annual Meeting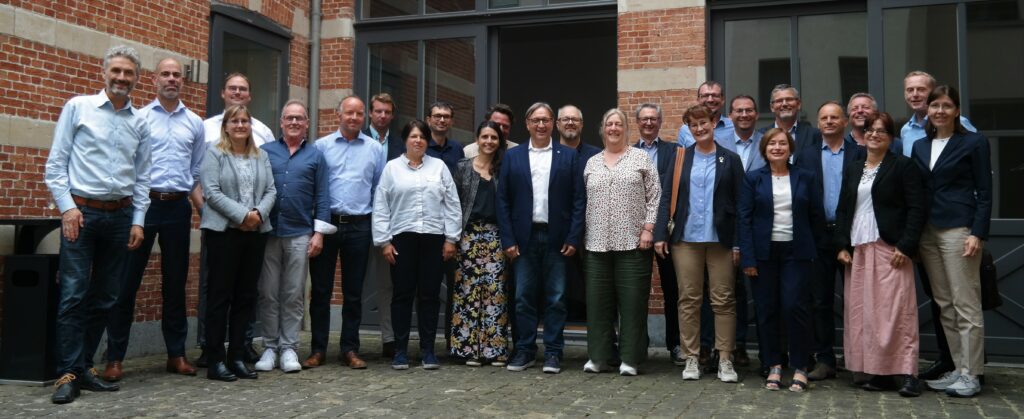 Following the 20th anniversary the ECN also held its annual meeting on 30 June in Brussels. The meeting took place in the Renewable Energy House with 30 attendees. We were happy to introduce our new policy officer Riccardo Gambini. He will be starting in August 2022 and will be representing the ECN in Brussels. We are also pleased to have voted a new board that will be active for the next three years.
Kristel Vandenbroek and Massimo Centemero were re-elected as Chair and Co-chair
We are very pleased to announce our new board. Arjen Brinkmann from BVOR NL is joining the board as a new candidate. Jens Måge from Avfall Norge was re-elected. Additionally Kristel Vandenbroek (VLACO BE) and Massimo Centemero (CIC IT) were confirmed for a further period of three years as Chair and Vice-chair of ECN.
In total, ECN is represented by 9 board members: Jens Måge (Avfall Norge, NO), Massimo Centemero (CIC, IT), Tomasz Wojciechowski (GWDA, PL), Kristel Vandenbroek (Vlaco, BE), Arjen Brinkmann (BVOR, NL), Irmgard Leifert (BGK, DE), Horst Müller (KBVÖ, AT), Susana Lopes (Lipor, PT, not present), Domantas Tracevičius (NGO Ziedine ekonomika, LT, not present).
ECN-QAS certificates awarded
Congratulations to the conformity assessed Quality Assurance Schemes for Compost & Digestate.
The quality assurance schemes of the Austrian Compost and Biogas Association (KBVOE), the Italian Composting and Biogas Association (CIC) and Vlaco were awarded the ECN-QAS certificate at the Annual meeting 2022.
The audits for the renewal of the conformity assessed national quality assurance schemes, according to the European Quality Assurance Scheme for compost and digestate of ECN (ECN-QAS), took place in 2021. KBVÖ and CIC offer certification schemes for quality compost. Vlaco's certification scheme additionally includes the certification for quality digestate.
According to ECN's new Data report more than twenty-five percent of all compost produced in the EU27, CH, NO, and UK were certified to conform to the ECN's Quality Assurance Scheme (5.3 million tpa out of a total of 21.7 million tpa). The total nutrient value (NPK) of ECN quality assured compost almost quadrupled over the last 15 months due to increases in inorganic fertiliser prices on the international markets. On average, one tonne of ECN certified quality compost contained nutrients valued at 63 EUR per tonne (fresh matter).
EP Intergroup & ECN Policy Event

Compost and Digestate in the Circular Bioeconomy: Healthy Soil for Healthy Life
The annual meeting was closed off with the online policy event "Compost and Digestate in the Circular Bioeconomy: Healthy Soil for Healthy Life" hosted by MEP Sarah Wiener and organised together with the EP Intergroup on "Climate Change, Biodiversity and Sustainable Development". We would like to thank everyone that participated especially the panellists and hosts of the events. Feel free to look up the insightful presentation of the events' key speaker Dr. Jane Gilbert presenting ECN's new Data Report 2022 here.
Click here for the recording of the webinar.
Click here, if you are looking for further information on the webinar.
ECN Data Report
We are happy to announce that ECN released its Data Report for 2022. The new ECN data report verifies that less than 40 million tonnes of municipal bio-waste are separately collected and processed into high-quality compost and digestate in Europe. This means that only 17% of municipal solid waste is organically recycled through composting and anaerobic digestion. For reaching the overall recycling target of municipal waste of 65% by 2035, there is a need to set further incentives to improve the separate collection and the biological management of bio-waste at the European level.
You can find the report here!
ECN Position Paper
The paper was written by Alberto Confalonieri (CIC), the ECN Task group Chair of Soil and Organic Matter in cooperation with the participants of the task group of Soil and Organic Matter.
You can accesse the paper here!
Events
ECN TG QAS meeting I 03 August 2022
Conformity Assessment according to EU Fertilising Products Regulation (FPR)

Several of our national quality assurance organisations for compost and digestate are struggeling and hesitating to become accredited by there national accreditation bodies against Module D1, and therefore an exchange meeting between our national quality assurance organisations has been organised to discuss, how do deal with the EU Fertilising Products Regulation in future.
The ECN Task Group Quality Assurance meeting will take place on 3 August 2022 from 11:00 to 15:00 h in Cologne.
Registration deadline for ECN members: 11/07/2022
BGK Humustag I 06 October 2022

BGK Humustag
This event will be held in German. Click here for more information.
Austrian Compost Congess I 3-4 November 2022
1st Austrian Compost Congress - Register now

The Compost & Biogas Association Austria is organizing its first Austrian Compost Congress. Our industry is currently facing challenging times and with this top‐class specialist congress we want
to offer composting plant operators the opportunity to stay up to date on important special topics.
In addition, the leading technology providers will be there in order to network with the specialist
industry in the best possible way at this congress.
Current challenges and central topics will be:

Law/Quality Assurance
State of the art
Microplastics/status of biodegradable materials
Technology for removing impurities
Biowaste fermentation and composting technology
Click here for more information.
Biogas Convention I 07-11 November 2022
BIOGAS Digital Convention 2022
The BIOGAS Convention (conference part) will be organised as an online event this year from 07-11 November 2022. In addition to the German lectures, a parallel English programme will be offered. Afterwards, the trade association will set up its joint stand at the EnergyDecentral trade fair in Hanover from 15-18 November 2022 and present lectures on biogas as part of the exhibitor forum.
Click here for more information!
S.O.S Save Organics in Soil
This international initiative S.O.S. SOIL – Save Organics in Soil, led by the European Compost Network (ECN) and the Italian Composting and Biogas Association (CIC), aims to highlight the importance of soil organic matter to encourage policy makers to develop instruments to move Europe towards implementing sustainable, climate proof soil management practices.
Sign the manifesto 'Save Organigs in Soil' here.
European Compost Network ECN e.V.
Im Dohlenbruch 11, D-44795 Bochum
T: +49 (0) 234 438 9447
Email: info@compostnetwork.info
Website: www.compostnetwork.info
VR4604 - UST-ID-Nr. DE813811932 -
EU Transparency Register: 26513411360-51
ECN-QAS Trade Mark No 011007168
Trade mark for certified quality assurance
organisations, compost and digestate products
according to ECN-QAS
Website: www.ecn-qas.eu