The audit of KBVÖ for conformity assessment was carried out the first time after the fusion of ARGE Kompost and Biogas and KGVÖ. The conformity assessment includes the supervision of KBVÖ's quality assurance scheme (17 July 2018) and the audit of a KBVÖ composting plant was observed at the Vienna composting plant  'Lobau' on 18 July 2018.
ECN quality manager Stefanie Siebert carried out the audit. In the picture from left to right are Dr Stefanie Siebert (ECN Quality Manager), Ing. Horst Müller (KBVÖ, External Auditor), Dipl. Chem. Annemarie Nowak (Head of Unit Biowaste management, Composting plant Lobau) and Mag. René Steinmair (QA manager Biowaste Management, Composting plant Lobau).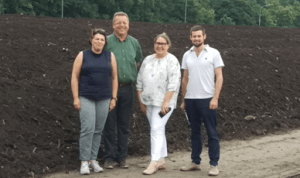 The certification was awarded to KBVÖ on 6 September 2018 by ECN. Congratulations to KBVÖ for keeping their high quality!