International Compost Awareness Week (ICAW) is the largest and most comprehensive education initiative of the organics recycling industry.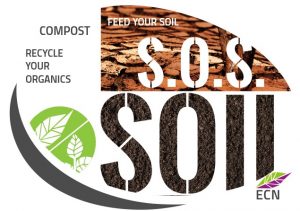 It is celebrated in many countries throughout the world annually during the first full week of May. Started in Canada over twenty-five years ago, ICAW has continued to grow as more people, businesses, municipalities, schools and organizations are recognizing the importance of organics recycling and compost use.
This year, the annual week-long event will be held on May 2nd – 8th.  During the week, thousands of volunteers around the world will hold educational activities working together to get the word out about the many benefits of recycling organics and the importance of returning organic matter – compost – back to our soils. One of the key areas of focus this year is looking at the circular process moving from turning recycled organic materials into compost which creates healthy soils leading to more nutrient dense fruits and vegetables, with that waste going back to being composted and the process starting again.
A compost journey across Europe

This year, the European Compost Network will present a collection of experiences from different European countries under the motto 'Recycle your organics…to save organics in soil'. Compost adds carbon back into the soil, storing carbon in soils, promoting water conservation, and retarding erosion of soils and closes the loop by avoiding the loss of valuable organic resources.
"The motto recognizes the opportunity for the agriculture to become more sustainable and achieve the objectives of the European Green Deal, Farm to Fork Strategy and Biodiversity Strategy. Circular movement of the organics recycling process flowing from farm to fork to farm again creates healthy soils leading to cleaner environment and more nutritious food. The never-ending cycle will always start again, once bio-waste is separately collected." explained Stefanie Siebert, European Compost Network Executive Director.
We are organizing an online webinar (5 May 2021) to show the best uses of compost with participants from Portugal, Italy, Poland, Norway, Belgium, from North to South and from West to East. All Europeans should be proud of the achievements of the compost sector which can count on extensive knowledge and pioneering entrepreneurship that are acknowledged as best practices worldwide. It is not a coincidence, that the European Union introduced the obligation for all Member States to introduce the separate collection of bio-waste. Who does compost, saves organics in soil and helps the planet!
If you like to join our compost journey, please follow the link here.
Compost Quiz
Are you ready to test your knowledge about compost and prove that you are a real international compost awareness week champion? Please try to answer the short questions in our compost quiz here.
If you score the highest point take a screenshot of the results and email us at info@compostnetwork.info