Certification of ECN-QAS
The ECN-QAS label can be awarded in two cases: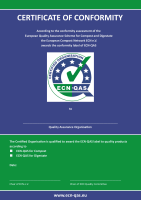 as a CONFORMITY LABEL to national quality assurance organisations (NQAO) for compost and/or digestate in respect to Part B of the ECN-QAS Quality Manual.
as a QUALITY LABEL to composting plants or digestion plants participating in an ECN conformity assessed national quality assurance organisation in respect to Part C of the ECN-QAS Quality Manual.
The Rules for awarding the ECN-QAS Conformity and Quality Labels and Terms of Use can be downloaded here ECN-QAS rules and terms of use_2015.
The Certification Fee Schedule of ECN-QAS can be downloaded ECN-QAS certification fee schedule_2015.