Feedback on the Roadmap on Farm to Fork Strategy
On 17 February 2020 the European Commission has opened the public consultation on the Roadmap on the Farm to Fork Strategy. The European Compost Network welcomes the European Commission intention to develop a strategic framework with the Farm to Fork strategy to accelerate the transition towards a sustainable food system.
ECN warmly recommends the Commission to promote measures that enhance soil health and soil fertility as the cornerstone of the transition towards a sustainable food system. Therefore, ECN suggests the Commission to include in the strategy measures that
Incentivize uptake of quality proved and certified compost in organic soil improvers and growing media; and
Make regular application of organic soil improvers on the agricultural land more likely, e.g. by rewarding such practices.
Such measures could include a target on minimum soil organic matter content in agricultural land, and on the use of recycled nutrients.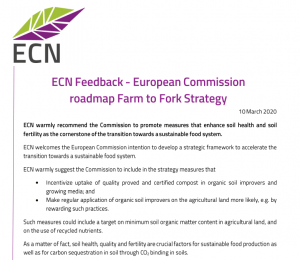 As a matter of fact, soil health, quality and fertility are crucial factors for sustainable food production as well as for carbon sequestration in soil through CO2 binding in soils.
Compost is the end-product of the composting process of bio-waste and is a valuable soil improver as it contains stable organic carbon that can help (maintain and/or) increase the content of soil organic matter. It also contains a diverse range of micro-organisms that form an essential part of a healthy soil ecosystem. Between 118 and 138 million tonnes of nutrients-rich bio-waste is generated across the EU every year, but less than 40% are currently recycled.
This is a huge potential for recovering and reusing sustainable nutrients and organic matter.
The full feedback of ECN can be accessed here.
Further information on the Farm to Fork Strategy is available on the Commission's website.