Roadmap on EU Farm Policy published: Evaluation of its impact on sustainable management of the soil
On 30 July 2019 the European Commission has published the roadmap on EU's common agricultural policy (CAP) to evaluate the impact of sustainable management on soils. This evaluation, which is part of a series of evaluations on the performance of the CAP against its general objectives, will assess in particular the extent to which CAP instruments and measures have contributed, through agriculture and forestry land use and practices, to sustainable management of the soil and have influenced soil quality.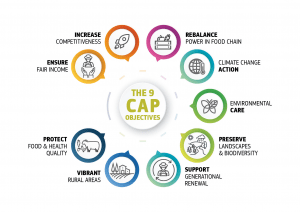 Soil is one of the most important natural resources. It absorbs all the consequences of human presence. Soil quality is an important environmental, climate and economic concern. Agriculture and forestry have an important influence over the management of soil resources while also being heavily dependent on them. Farming and forestry cover about three quarter of the EU's land surface area.
Agricultural and forestry practices play a key role in terms of impacting on soil erosion, compaction, organic matter, biodiversity, pollution or salinisation. One of the EU's common agricultural policy (CAP) general objectives is the sustainable management of natural resources and climate action. Important elements of this are the prevention of soil erosion and the improvement of soil management.
The evaluation will contribute to the report from the Commission to the European Parliament and the Council that is due by 2021 on the performance of the CAP, as well as provide evidence for policy development in this area. The purpose and scope of this evaluation is to provide a full view on how the CAP instruments and measures are performing against the objective of sustainable management of the soil.
ECN will contribute to this initiative and will follow up the ongoing activities with DG AGRI. The Commission is planning to launch an internet-based consultation on practical experience with the implementation and effects of the CAP instruments on soils in the fourth quarter of 2020.
Please provide your feedback to the roadmap as stakeholder or citizen until 27 August 2019 here.