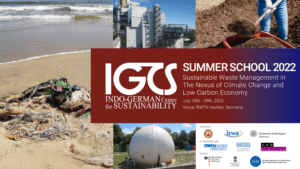 On 26th August 2022 Dr. Stefanie Siebert, Executive Director of ECN, contributed to the panel discussion 'Contribution on the waste management sector to low carbon economy, challenges and possible solutions' by emphasizing the role that separate collection and recycling of bio-waste plays by providing high-quality compost and digestate for improving soil fertility.
The panel discussion took part during the International Summer School 2022 'Sustainable Waste Management in the Nexus of Climate Change and Low Carbon Economy' of the Indo-German Centre for Sustainability from 18 to 28 July 2022.
Food loss and waste are generated at multiple stages within the food supply chain at different magnitudes. Globally, the major contributors to food waste are households (61%), food service industries (27%), and retail (12%). Improper management of food waste (at each step) in the food supply chain contributes to 3% of greenhouse gas (GHG) emissions. Additionally, the improper disposal of agri-residues via open field burning results in both CO2 and non-CO2 GHG emissions like CH4 and NOx. While anaerobic digestion is a matured process to extract bioenergy from biodegradable matter, there are still some bottlenecks in realizing the technology in a widespread manner and on a large scale. Moreover, the digestate is also a source of carbon that can be utilized either as an organic manure for soil amendment or to generate biofuels. It is estimated by the ECN that up to 3.5 million tons of CO2 equivalents are saved per year by the compost generated by the bio-waste sector, which aids in effective soil carbon sequestration. Novel approaches are also being developed to convert agri-residues and segregated biodegradable wastes to novel materials/bio-products that are sustainable with a carefully tuned end-of-life. This panel enlightened on the circular approaches to achieve a low carbon bioeconomy with the biodegradable wastes.
The ECN presentation 'Sustainable Carbon Cycles and Healthy Soils' for in can be accessed here.
Further Information:
ECN Position Paper on the Role of Organic Waste derived Soil Improvers and Organic Fertilizers with the Carbon Farming Initative - click here
ECN Position Paper Healthy Soil - Healthy Life: Impact Assesment Soil Health Law - click here
ECN Guidance on Separate Collection - The untapped potential and steps forward for separate collection of household food waste for high-quality recycling - click here