First report on Global Assessment of Municipal Organic Waste Production and Recycling published
Soils are an endangered ecosystem globally and there is currently great interest in reducing erosion and improving the organic matter content of soils. ISWA's Soils Project aims at 'quantifying the benefit of organic matter in compost and digestate when applied to soils' takes a lead in providing robust evidence base to link waste management and soil enhancement/improvement.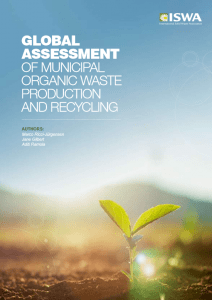 The project reports summarize current knowledge about the fate of recycled carbon in soils, in particular, its sequestration and effects on soils by talking about key areas of the world where threats to soils are severe and could benefit from organic matter inputs.
These reports will also provide a tool for waste planners/managers and farmers, summarising how composting and anaerobic digestion can be used in different country situations, and how quality assured products can be usefully applied to soils.
The first of five upcoming reports is now published, and a kick-off meeting by presenting the first publication will be organised on 6 May 2020 at 3 pm (CET).
To take part in the webinar, please register here.
To download the report, please follow the link here.