On 11 March 2020 the College of Commissioners of the European Union discussed and adopted the new Circular Economy Action Plan which should set a framework to reduce waste, deliver clean material loops, increase recycling capacity and get secondary raw materials market working, inter alia. After years struggling to get the Commission on board, ECN welcomes recognition that "high quality recycling relies on effective separate collection of waste". On the other hand, ECN warmly recommends the Commission to focus more on measures that effectively promote uptake of high-quality recycled compost in products to decouple growth from resource use.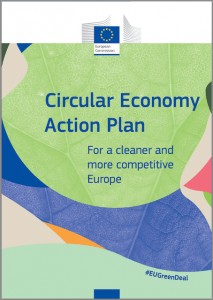 Separate collection of bio-waste from households will become mandatory in 2023, following correct implementation of the provisions of the Revised Waste Framework Directive. ECN welcomes the proposal to "harmonise separate waste collection systems, taking into account regional and local conditions", and stands ready to provide valuable know-how to improve every country's separate collection capacity.
However, ECN regrets to acknowledge that the general approach to secondary raw materials is always marked by uncertainties and concerns with regards to their safety and quality. Certified compost is a high-quality, safe-to-use recycled material, that faces challenges to compete with non-renewable mineral fertilising products due to price concerns and a lack of functioning markets, rather than to safety or quality issues.

The full press release of ECN can be downloaded here.