Map Unavailable
Date/Time
Date(s) - 21-11-2023->23-11-2023
00:00
Categories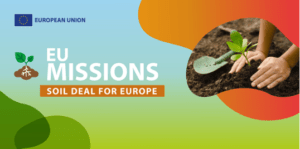 The Horizon Europe Mission 'A Soil Deal for Europe' (Mission Soil), the EU Soil Observatory Stakeholders' Forum, and the EU-funded PREPSOIL project are joining forces to hold the first edition of the European Mission Soil Week.
The European Mission Soil Week will be an annual event designed as a major European gathering that brings together the European soil community. Researchers, policymakers, farmers, foresters, spatial planners, land owners and managers, businesses and organisations, as well as the public, will meet to discuss the challenges for healthy soils.
The event will be hosted by the Spanish National Research Council (CSIC) and will take place under the Spanish EU Presidency on 21-23 November 2023 in Madrid.
Pre-registration for the European Mission Soil Week 2023: https://ec.europa.eu/eusurvey/runner/pre-registration-EUMissionSoilWeek.