On 28 April 2017, several members of the European Parliament and their assistants followed the invitation of MEP Mark Demesmaeker (ECR) to a field trip demonstrating the successful circular economy of Flanders. The field trip was organised by the Public Waste Agency of Flanders (OVAM) in cooperation with Vlaco, the Flemish Organisation on compost and digestate by visiting the composting site of EcoWerf in Leuven and the reuse centre in Vilvoorde.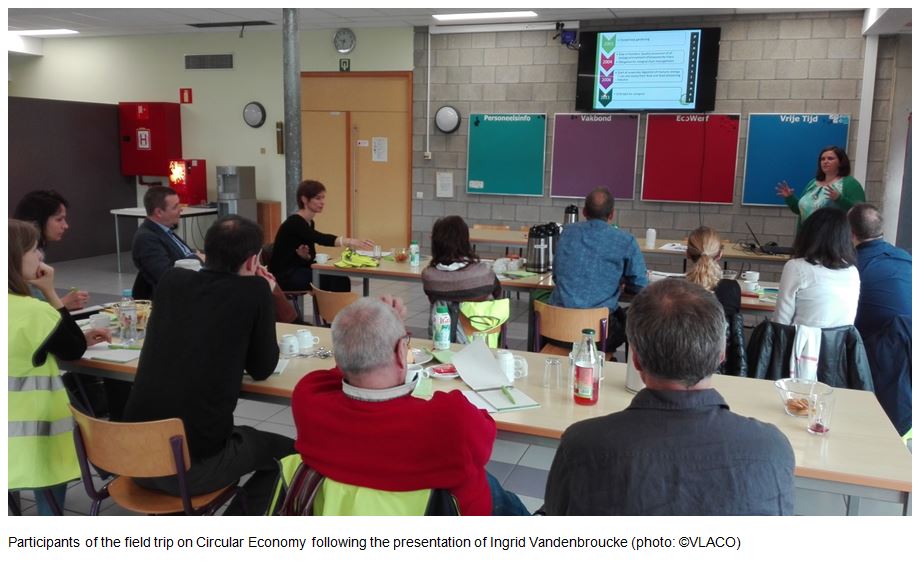 Ingrid Vandenbroucke, Quality manager of Vlaco, introduced the biowaste policy in Flanders. Separate collection of biowaste has been successfully implemented since the early nineties in the Flemish Region. With the obligation to implement the separate collection from households for either green waste or vfg-waste (vegetable, fruit and garden waste) by the municipalities and inter-municipal waste associations up to 715.000 tonnes of biowaste and green waste are composted in the Flemish Region. By this a bio-waste recycling rate of 77 % of municipal waste is achieved. With the establishment of Vlaco npo, as a quality assurance organisation for compost and digestate, the production and the use of quality compost was promoted. Nowadays the composting plants in Flanders produce high quality compost in all cases fit as a soil improver and growing medium in agriculture, horticulture, private gardens, landscaping.
Besides this background information the participants from the European Parliament had the chance to get a practical view inside in the composting process. Martina Kinders, the EcoWerf Manager of Environment and Quality, guided the participants with passion and enthusiasm through the plant. Since 2014 EcoWerf is certified besides the quality label of Vlaco with the European Compost Quality label of ECN-QAS.
For further information, please find the presentation 'Biowaste management in the Flemish Region' here. A press release (in Dutch) and photos from the site visit can be accessed here.