Commission's legislative proposal on the future Common Agricultural Policy (CAP) published
Based on the Commission's communication 'The Future of Food and Farming' (see ECN News 01_2018) the European Commission published the legislative proposals on the future of food and farming on 1st June 2018. The Common Agricultural Policy (CAP) is one of the EU's oldest policies, providing subsidies to Europe's farmers since 1962. Whilst the current CAP aims to support the agricultural sector to produce a secure supply of quality, safe food, it is in need of modernisation to ensure that it is fit-for-purpose for the 21st century. The future CAP should support European farmers and ensure Europe's food security, while ensuring a resilient, sustainable and competitive agricultural sector.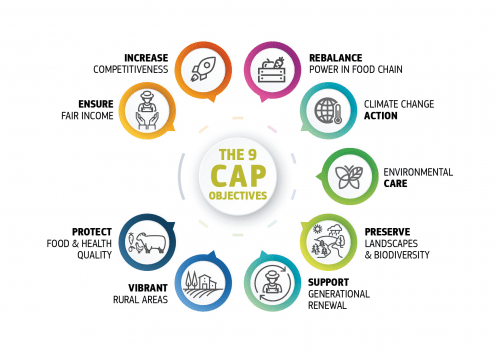 Based on nine clear objectives, as outlined in the graphic icons above, the future CAP will continue to ensure access to high-quality food and strong support for the unique European farming model with an increased focus on the environment and climate, supporting the transition towards a more sustainable agricultural sector and the development of vibrant rural areas.
The future CAP will give priority to:
supporting the small and medium-sized family farms that are at the heart of the EU's agricultural way of life, as well as encouraging young farmers to join the profession;
guaranteeing higher ambition on environmental and climate action, and supporting farmers who meet higher environmental and sustainability standards;
encouraging the development of vibrant rural societies and helping farmers meet public expectations on food quality and health.
For achieving these general objectives the legislative proposal is accompanied by an  Annex listing impact indicators. With regard to contribute to climate change mitigation it is proposed
to reduce GHG emissions from agriculture,
to increase the soil organic carbon, and
to increase sustainable energy by producing renewable energy from agriculture and forestry.
The European Compost Network (ECN) will follow the debate on the legislative proposals in the European Parliament and the Council.
Further information on the Future of CAP
An info sheet on the CAP reform from the European Commission can be accessed here.
The background document 'Modernising and simplifying the CAP' can be accessed here.