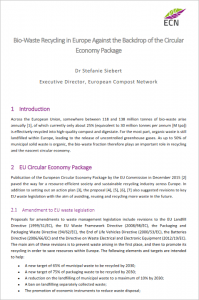 Publication of the Circular Economy Package by the EU Commission in December 2015 paved the way for a resource-efficient society and sustainable recycling industry across Europe. In addition to setting out an action plan, the proposal also suggested revisions to key EU waste legislation with the aim of avoiding, reusing and recycling more waste in the future. If implemented, these proposals are set to improve the way bio-waste is managed across Europe.
ECN has summarised the status of Bio-Waste Management in Europe with regard to the legislative approaches.

Download the full ECN paper: here.