On 13 February 2020 Hans Bruyninckx, EEA Executive Director, presented the key findings of the EEA report ' The European environment — state and outlook 2020: knowledge for transition to a sustainable Europe (SOER 2020)' at the event 'SOER 2020: Civil society's role for a just (and fast) transition towards sustainability' hosted by the European Economic and Social Committee (EESC) Sustainable Development Observatory and the European Environment Agency (EEA) in Brussels.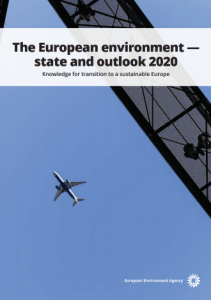 Based on the findings it is clear, that Europe will not achieve its 2030 goals without urgent action during the next 10 years to address the alarming rate of biodiversity loss, increasing impacts of climate change and the overconsumption of natural resources. The European Environment Agency's Executive Director, Hans Bruyninckx (EEA) stated:
'Europe's environment is at a tipping point. We have a narrow window of opportunity in the next decade to scale up measures to protect nature, lessen the impacts of climate change and radically reduce our consumption of natural resources'.

SOER 2020 is the most comprehensive environmental assessment ever undertaken on Europe. It provides a stark snapshot of where Europe stands in meeting 2020 and 2030 policy targets as well as longer term 2050 goals and ambitions to shift to a sustainable, low carbon future. The report notes that Europe has already made significant progress over the past two decades in terms of climate change mitigation, reducing greenhouse gas emissions. Signs of progress are also evident in other areas, such as tackling air and water pollution and the introduction of new policies to tackle plastic waste and bolster climate change adaptation and the circular and bio-economy.
 
While these achievements are significant, Europe will not achieve its sustainability vision of 'living well within the limits of the planet' by continuing to promote economic growth and seeking to manage the environmental and social impacts. The report urges European countries, leaders and policymakers to seize the opportunity and use the next decade to radically scale up and speed up actions to put Europe back on track to meeting its medium and longer-term environmental policy goals and targets to avoid irreversible change and damage.
 
The background paper of the EESC and EEA event can be downloaded here.
The press release on the publication of the SOER 2020 can be downloaded here.
The website 'SOER 2020', the report and key findings can be accessed here.