Version

21

Download

60.31 KB

File Size

1

File Count

April 23, 2019

Create Date

April 23, 2019

Last Updated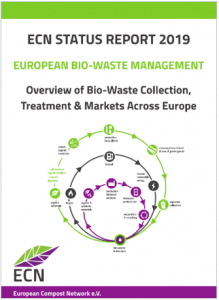 This report summarizes how European countries collect bio-waste, process it in biological treatment plants and market various compost and digestate products.
For ECN members, the PDF version is available for free in the internal part, but for copyright reasons this is not a printable version. Non-members can order the electronic online-version for 50 €. It is also possible to buy the printed version for 75 € plus shipping costs.
For more information concerning the ECN STATUS REPORT, please send an email to the ECN office: info@compostnetwork.info.
| File | Action |
| --- | --- |
| ECN Status report 2019.PNG | Download |